Welcome to the Main Volleyball Page
Tryout Information
Spring tryouts will take place on May 7-11 at the DCHS gym, from 4-6 each day. Friday, May 11th will be a scrimmage at a place to be determined. At this time, most of the varsity team will be selected, plus several JV positions. No cuts will be made at this time. If you are new to the sport, you are encouraged to come to the tryouts, learn what volleyball is about, and continue on to the summer workouts and fall tryouts.
Summer Workouts
Summer workouts begin on Monday, July 9th. We will practice from 9-11 am, on Mondays, Tuesdays, and Thursdays throughout July. Varsity players are expected to be at most of these practices, along with anyone else who wants to try out. There will be a scrimmage at some point during the last week of July with Chapel Hill HS.
Tryouts
Fall tryouts will be August 1 and 2. Attendance is mandatory to make the team. Please note that this is a week before school starts, so plan accordingly. At the end of practice on August 2nd, final team rosters will be posted here on the website. Games will begin on August 11th.
2017 Seasson in Review
The Lady Tigers qualified for the state playoffs for the 4th year in a row, finishing second in Region 5, AAAAAA. Congratulations to our outside hitter, Taliyah Sumter, who was named to the first team All-Area squad! Unfortunately, though we gave a great effort, Pope defeated the Lady Tigers in straight sets. We fought to the end, and made it a closer game than many thought it would be. Congratulations to a fine end of the season!

Front Row: Summer Reese, Taliyah Sumter, Miranda Marr, Paula Vallejo, Carrington Triplett, Molly Gilbert.
Back Row: Haley McElroy, Karleigh Fripp, Jordan Sumlin, Raven Mitchell, Mikayla Williams, Jillian Smalls, Coach Spoor

Rosters for 2017-18:
Varsity Junior Varsity
Jillian Smalls Samantha Henley
Haley McElroy Simone Mba
Carrington Triplett Khaliyah Pierre-Louis
Taliyah Sumter Kelsey Simmons
Miranda Marr Jasmine Brummell
Karleigh Fripp Halee McDonald*
Jordan Sumlin* Celaina Outley
Mikayla Williams* Jackie Gwin
Raven Mitchell Ituaje Okojie*
Molly Gilbert Alyssa Stephens
Summer Reese* Nadeerah Rudd
Paula Vallejo Age Okojie
Important Dates for 2017:
If you are interested in knowing the entire schedule, please click on the Calendar link, as every practice and game is posted for the entire season. There is a downloadable schedule for each team in the Forms section. Please note that away game times are almost always guesses, and it's up to the home team to tell me before the game, so you will have to wait to be sure.
2016 Season
Congratulations to the Lady Tigers for qualifying for the state tournament for the third consecutive season! Although we fell to Greenbrier HS in the first round, the ladies grew up significantly as a team, never gave up, and fought to the end. Cheers to a successful season!
Further congratulations are due to Mmachi Okeke, our captain, who has been selected as First Team All-Area! Mmachi has had an outstanding season, leading the team in both kills and blocks.
The 2016 Lady Tiger Volleyball Team
Front Row: Celena Green, Carrington Tripplett, Miranda Marr, Taliyah Sumter, Jillian Smalls, Camryn Daniel
Back Row: Caroline Douglas, Karleigh Fripp, Mmachi Okeke, Sophia Ortiz, Haley McElroy, Mallory Carney, Coach Spoor
Congratulations Kennedy!
Congratulations to 2016 graduate Kennedy Curtis, who has accepted a full volleyball scholarship to Coppin State University! For those of you not in the know, Coppin State is an HBCU in Baltimore that plays in the Mid-East Athletic Conference (MEAC), a Division-1 school. We are so proud of you and know that you'll represent DC very well!

The 2015 DC Lady Tiger Volleyball Team
Congratulations to the Lady Tigers, who for the second year in a row qualified for the state playoffs in AAAAAA. They lost to Lakeside-Dekalb, however, but the year was the most successful in school history. They won the Douglas County Volleyball Tournament Championship for the first time since the initial tournament in 1999 and finished with a record of 29-13-2. Congratulations to Maya Jackson for finishing on the First Team All-Area team! Kennedy Curtis made 2nd team and Mmachi Okeke and Sierra Dubois were honorable mention. Great season, ladies!
2014 Season in Review
The Lady Tigers qualified for the state tournament this year for the first time in school history! They defeated Tift County in the first round of the state playoffs, 3-0, then traveled to North Gwinnett for a matchup in the Sweet 16. Unfortunately, the Lady Tigers fell short that night, but what a spectacular way to end a season! Way to go ladies!
The Area 3 All-Area Team was announced, and our very own Kennedy Curtis earned First Team Honors, Maya Jackson earned Second Team, and Mmachi Okeke earned Honorable Mention. Way to go ladies!
The 2014 DC Lady Tiger Varsity Volleyball Team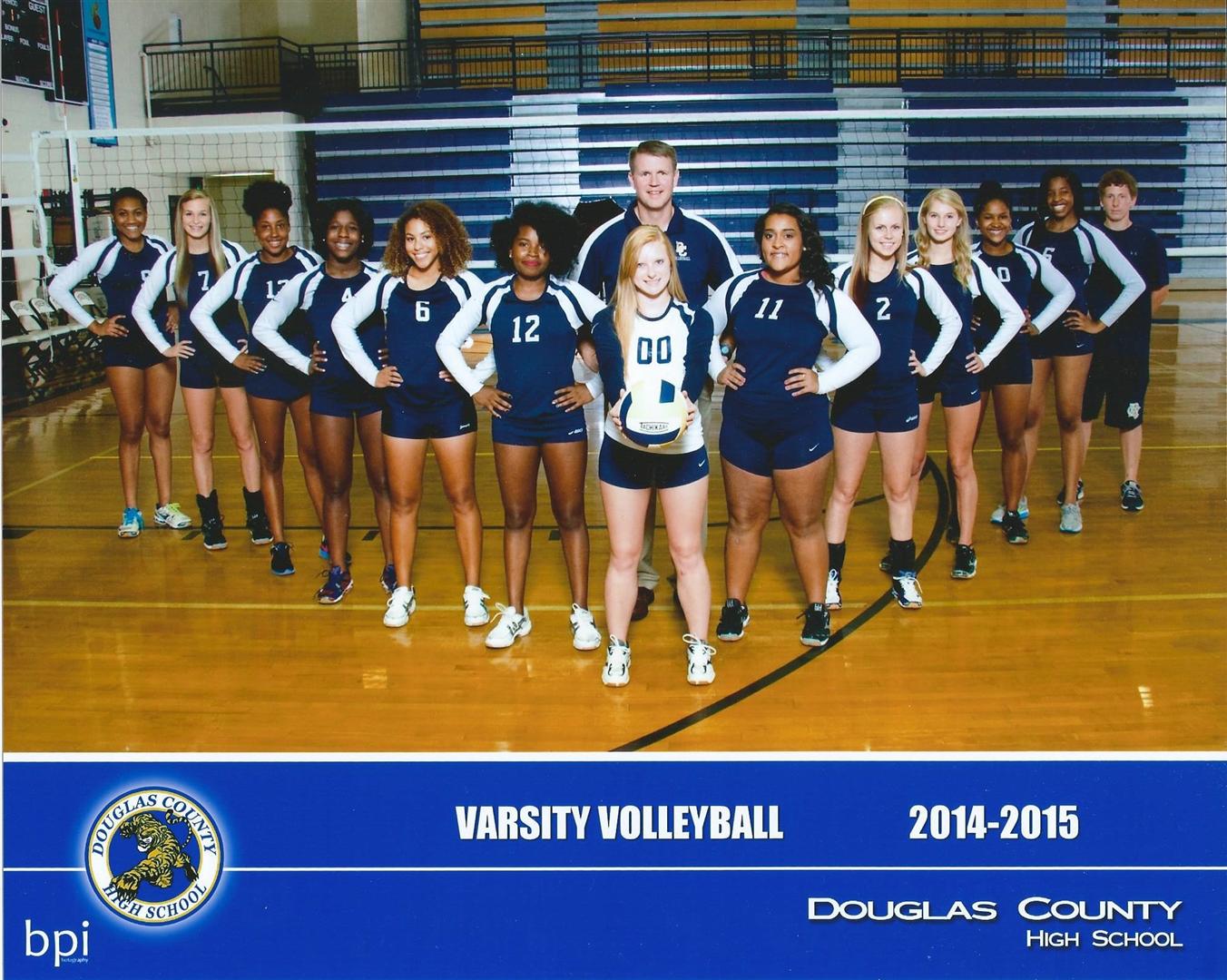 L-R: Kennedy Curtis, Krista Smith, Daijai Washington, Maya Jackson, Adriana Williams, Shamba Griffin, Emily Upton, Nana Barimah, Sierra Dubois, Katie Baskin, Anaya Gibson, Mmachi Okeke, Trey Stevens (Mgr). Rear: Coach Lee Spoor

Absent: MaryJo Pidgeon